Being a Digital Nomad: Traveling the World!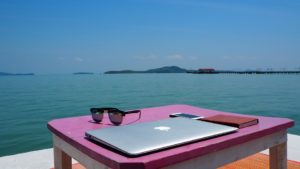 Digital nomads have been increasing in popularity over the past few years. If you are not familiar with the term, you might feel the need to clarify some things. First of all, this is a worldwide trend that has started to bloom in the western world. The need of professionals to let go of the "9 to 5" mentality and restrictions has made it happen.
What Does a Digital Nomad Do?
Typically a digital nomad works remotely, using only a laptop and an Internet connection. As you can imagine, this can happen anywhere. So the digital nomad takes advantage of this situation and travels the world. The digital nomad travels to places far away, where new experiences and amazing adventures are waiting to unveil.
Combining business with leisure, this is the best thing for a digital nomad. Exploring new and uncharted lands is an experience on its own. Mingling with the locals, trying to find a new place to call home and deliver work regardless of the location.
Many countries have addressed the growing need of digital nomads and are now thinking of ways to meet their needs. They have been trying to find legal grounds, in which the digital nomad can reside and get an e-residency to cover temporary needs. This is a great step, since it will allow digital nomads to travel easily and without any restrictions.
Why Should You Try This Lifestyle?
First of all, it is fun! You will feel free and discover new countries in the world. There will be no restrictions as to where you can be at a time. Instead, you can travel to Maldives and then move to Athens. Your next stop can be Lisboa and then Larnaca. You just need to find a place with decent Internet, so that you can do your job. Whether you are an IT expert or a copywriter, an accountant or a photographer, you do not even have to own an office. You just take it with you!
Traveling light is a must, obviously. Finding the right country where the language is not going to be a problem is a challenge. However, the satisfaction that you get out of this experience certainly outweighs any problems that might come up. Being with a family can be a problem, so try to fill your bucket list when you are free and ready to live the adventure!