Visit Athens: A Journey to a Timeless All-Year-Round Destination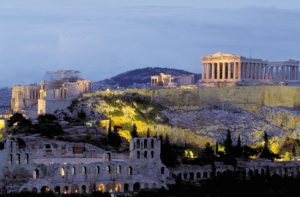 Athens is the capital of Greece, with a long history dating back to 3,500 years ago. One of the world's oldest cities, with landmarks such as the Acropolis standing tall on the second highest peak of the city and offering unsurpassable views from above. This is a UNESCO World Heritage Site, highlighting its significance to the world as the cradle of Democracy from the glorious Classic Era of Athens.
A Journey Back in Time
Whether you are a history enthusiast or nature's lover, you are going to love traveling to Greece and visiting Athens. Its mild climate provides the perfect conditions for endless hours of explorations at the historic center, strolling up and down the cobbled pathways and discovering the hidden gems all the way from antiquity.
Besides the Acropolis with the emblematic Parthenon (Temple dedicated to the Goddess Athena, patroness of the city), there are many other attractions that will steal your heart away. The modern Acropolis Museum offers rich collections of exhibits from the classic times, bringing history to life in contemporary setting bathed by natural light. The Greek Parliament opposite the famous Syntagma Square is a fine building of neoclassic architecture, with the Changing of Guards every half hour capturing the attention of tourists. Soldiers in their traditional uniforms guard the building, walking in perfect alignment and providing a rare spectacle.
Kallimarmaro Stadium is located just a few steps from the center of Athens. Home to Modern Olympics, this is the place where 1896 the Olympic Flame was lit. Its name comes from the fine quality of marble used for its construction, as it basically means "Beautiful Marble". It is one of the major historic attractions in Athens, with current capacity exceeding 45,000. Other attractions include the Temple of Olympian Zeus and the Odeon of Herodes Atticus, the National Garden and Zappeion Park, as well as the picturesque neighborhood of Plaka – otherwise known as the Neighborhood of Gods.
An Experience to Cherish
Visiting Athens is a wonderful experience, shaping memories of a lifetime. Apart from the historic value of the Athenian attractions, travelers also indulge in fine Greek cuisine and have a taste of genuine culinary delicacies. The vibrant lifestyle of the Athenians and the effervescent nightlife, the embroidered coastline of the Athenian Riviera and the interesting shopping options available, the cultural heritage and the warm hospitality of the locals, these are all elements composing the idyllic holiday experience in a marvelous destination of the world!